Things are heating up across South Florida this summer and to make sure you are prepared for the next boat day, BBQ, or get-together, Vicky Bakery is here to make sure you're at the center of it all. Beginning in July and while supplies last, our Sol, Playa, y Pastelitos Summer Escape Tote Bags are available for $29.99 at participating Vicky Bakery locations throughout Miami-Dade and Broward Counties. These limited-edition, special printed tote bags scream 305 and are filled to rim with all your Vicky Bakery favorites including:
2 guava pastries
1 cheese pastry
1 guava and cheese pastry
1 meat pastry
1 coconut pastry
6 Vicky croquetas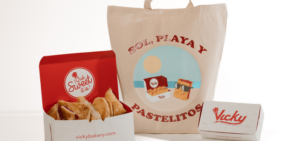 When you think about summer in South Florida, the beach and being outside is just part of it. With our new Sol, Playa, y Pastelitos Summer Escape Tote Bags, you get to bring something new, irresistible, delicious, and fun that will make you the talk of your next get-together or family gathering. Plus, they come packed with the best pastelitos and croquetas you can imagine.
To find your nearest Vicky Bakery and purchase a Sol, Playa, y Pastelitos Tote Bag, visit vickybakery.com.