The best party food ideas are fun. Not too fussy, not too formal. Not bland or boring. They catch your eye and draw you in, making you think, "I want to try THAT!" And when you do try it, good party food doesn't disappoint. Even if it's a tiny, one-bite finger food, it packs a punch of flavor. And if you're searching for the best kind of finger food catering in Miami, then look no further than Vicky Bakery.
At Vicky Bakery, we've always believed that there's just something about finger foods that's so much fun to eat! Maybe it's their adorable size or the fact that you can eat more than one without a second thought—either way, we're all for anything bite-sized. Hosting an event, a birthday, a celebration, or just watching the game – then these finger food ideas are just what you need to feed a crowd of hungry guests. At Vicky Bakery, you'll find tons of easy-to-munch on snacks, appetizers, and South Florida favorites including croquetas, pastelitos, tequenos, bocaditos, and so much more.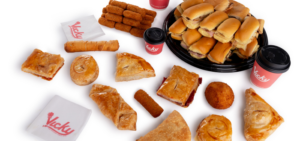 At Vicky Bakery, we always have the following finger foods available to quickly pick up for a party:
Pastelito Party Trays
Ham Croqueta Trays
Bocadito de Pasta Trays
Bocadito de Lasca Trays
With a little bit of notice, preferably at least 48-hours in advance, we can create the following kinds of finger food trays and more:
Salchichas (Pigs in a Blanket)
Mini Empenadas (Beef or Chicken)
Mini Papa Rellena
Mini Tequenos
Assorted Sandwich Platters
Mini Dessert Cups (Arroz con Leche, Dulce de Leche, Natilla, Chocolate Mousse)
All Vicky Bakery Party Trays come with a minimum of 25pcs and can be increased by 25pcs increments if needed. Let us cater your next event & take the stress out of planning. Shop our catering menu today. Visit vickybakery.com to find or call your nearest location. Online ordering is available at participating locations.
Recommended Posts
Finger Food Catering in Miami at Vicky Bakery
The best party food ideas are fun. Not too fussy, not too formal. Not bland or boring. They catch your eye and draw you in, making you think, "I want to try THAT!" And when you do try it, good party food doesn't disappoint. Even if it's a tiny, one-bite finger food, it packs a […]
Read more