With summer in full swing and the ocean in our backyard, Vicky Bakery Las Olas just made it a lot easier to pick up croquetas, pastelitos, sandwiches, party platters, or whatever you might need for a day out on the water. Whether you're heading offshore to do some fishing, looking forward to relaxing day on the sandbar, or just cruising the intercoastal, Vicky Bakery Las Olas has you covered.
For our new Dockside Delivery, all you need to do is order online or call our Las Olas location at (954) 314-7727 to place your order. Then just give us a few minutes and we'll bring it out to your boat on the Riverwalk just behind our storefront next to the Andrews Ave. Bridge.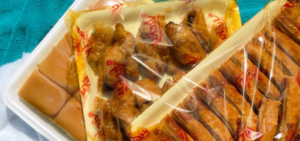 Located at 4 W Las Olas Blvd in Downtown Fort Lauderdale, our Vicky Bakery Las Olas location is owned by local entrepreneurs Alicio Pina, Nosbely Toledo, and Nosdiel Silva. The group has been active brand ambassadors of Vicky Bakery even before opening this Las Olas location last year. In fact, the business partners own seven Vicky Bakeries including Davie, Miramar, Florida International University's (FIU) North Campus, FIU South Campus, University of Miami, Coral Springs, and Las Olas.
"When we opened our first location in Miramar in 2016, we could have never imagined our success today," said Toledo. "And now with the addition of Dockside Delivery at Las Olas, we're taking another big step forward in our evolution as a brand in a fun, cool, and different way. It's really a testament to the systems and procedures that Vicky Bakery has established over 50 years in business and the incredible menu that our customers crave – whether they're on a boat, in their car, in our restaurant, or at a get-together with friends and family. It's hard to resist our specialty Cuban pastries made with secret family recipes passed down from abuelita to abuela and now on to our generation."
For 50 years, Vicky Bakery's Cuban roots and steadfast commitment to tradition have allowed the brand to stand out against the competition, passing along the love, time and traditions that went into making pastries originally in 1972. Today, that set of core values, along with its belief in quality, variety, convenience, and experience, still determines its direction and has kept the brand on solid footing. Created in our own kitchens every day, Vickey Bakery bakers and chefs prepare an extensive variety of authentic Cuban breads, pastelitos, croquetas, pastries, desserts, breakfast items, sandwiches, cakes, coffee, and so much more to satisfy every appetite.
For more information about Vicky Bakery, our additional locations, or franchising information, visit vickybakery.com.