Are you a Vicky Bakery lover? Well, now it's time to become a regular. No matter where you are, you can place your order ahead or have it delivered to you by ordering online from our website. Skip the lines and have your cravings satisfied while earning points that will lead you to enjoy incredible rewards.
First, go to www.vickybakery.com/locations, find your preferred store and click on Order Now. The second step is placing your order: What are you craving? Is it a sandwich, croquetas, pastelitos, some dulces, a whole cake or even a party special? We got you covered! Click on the items you wish to enjoy at this time and have them delivered, ready for pickup, or even for curbside pickup at some locations.
And just like that… Start earning points for your favorite location with the new Vicky Bakery Online Ordering Loyalty Program!
How does the loyalty program work?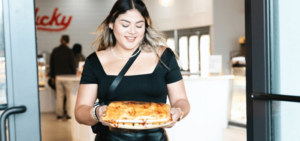 This program is per store. Which means that the points you accumulate are only valid at the location where you made the purchase.
To earn your rewards faster we recommend that you become a regular at your favorite location.
The loyalty program currently has two coupons available:
Earn 100 points and get $10 off your next order.
Earn 25 points and get a free coffee or a free guava pastry.
$1 dollar equals 1 point.
For every dollar you spend in your online order placed through our website, you will receive 1 point. Once you accumulate the necessary number of points at one store you will be able to claim your reward!
The stores currently participating in the Vicky Bakery Online Ordering Program are Bird Road. Coral Gables. Coral Springs. Davie. Doral. East Hialeah. FIU. Las Olas. Hialeah Gardens. Hollywood. Homestead. Miami Lakes. Miramar. Palmetto Bay. West Pembroke Pines. S.E. Hialeah. West Hialeah. UM.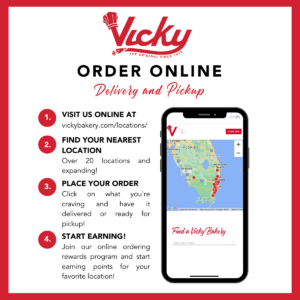 Recommended Posts
Finger Food Catering in Miami at Vicky Bakery
The best party food ideas are fun. Not too fussy, not too formal. Not bland or boring. They catch your eye and draw you in, making you think, "I want to try THAT!" And when you do try it, good party food doesn't disappoint. Even if it's a tiny, one-bite finger food, it packs a […]
Read more